www.industry-asia-pacific.com
Written on Modified on
Inelta: LVDT displacement sensors with pneumatic push rod
With the LVDT-ISDP and LVDT-ISAP series, Inelta Sensorsysteme offers special displacement sensors with pneumatic push rods for measuring ranges from 5mm to 50mm.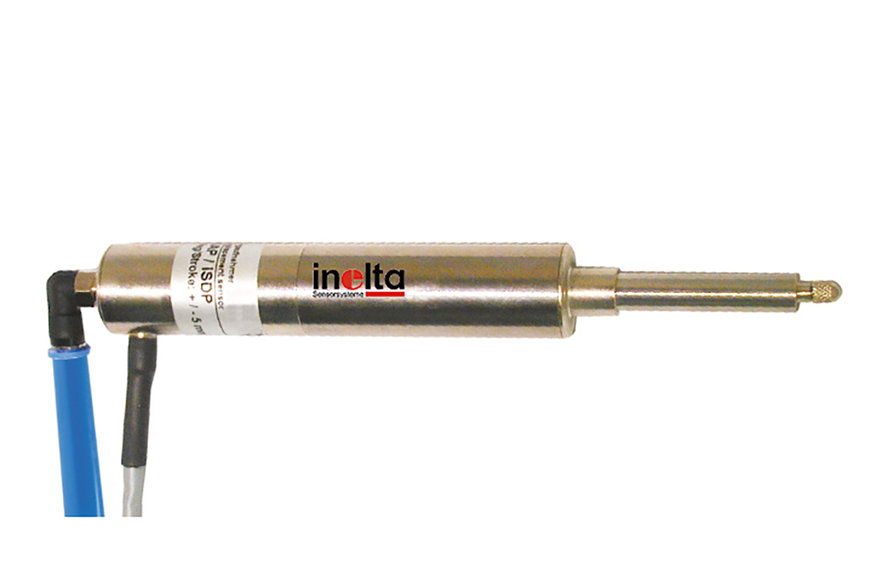 Inductive displacement sensors with pneumatically retracted push rod for precise positioning of sheet materials

The inductive sensors, which are available both with and without integrated measuring amplifiers in three device sizes, enable the exact determination of the position of, for example, sheet materials with a hysteresis-free measuring accuracy of up to ≤0.1mm. To prevent mechanical interference with the sensor technology, the push rod remains pneumatically retracted until the measuring process.
For position detection, the measuring tip is extended by means of spring force and then pneumatically returned. The slim displacement sensors, manufactured to IP65 in a nickel-plated steel housing, are approved for use in temperature ranges from -35°C to +120°C and are shock and vibration protected in accordance with DIN IEC 68T2.
Optionally, Inelta also supplies the units in IP67 or IP68 protection, with customized cable lengths, plug connection as well as in versions with a linearity tolerance below 0.25% or for an extended temperature range. On request, the sensors are also available with individual calibration. In addition to mounting blocks, clamping flanges, probe tips and pneumatic connections, various measuring amplifiers for DIN rail and PCB mounting as well as with cable connection are available as accessories.
www.inelta.com