www.industry-asia-pacific.com
Written on Modified on
Manitowoc: PT Superkrane purchases Asia's first Grove GRT8120
PT Superkrane Mitra Utama, one of Indonesia's biggest suppliers of heavy lifting equipment solutions and services, will receive the first Grove GRT8120 rough-terrain crane to be sold into Asia.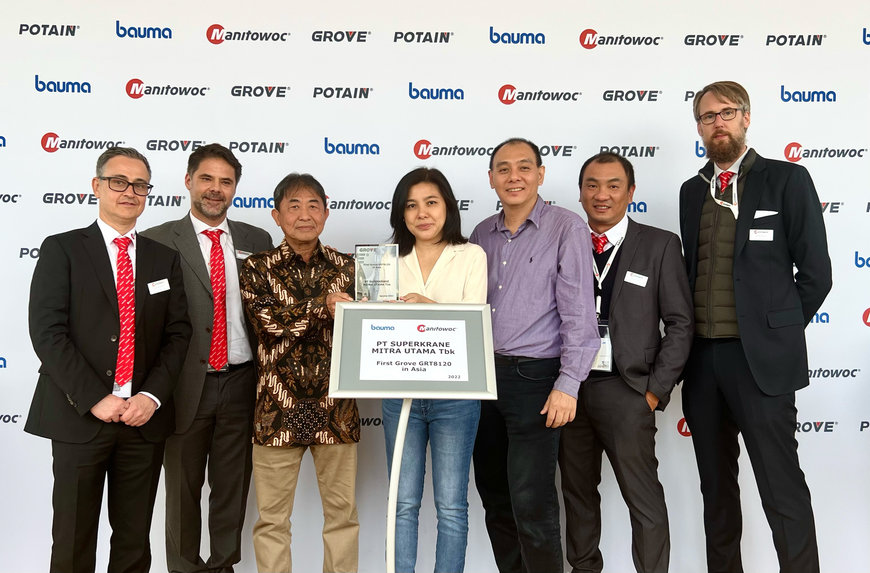 Celebrating the handover of Asia's first Grove GRT8120 to PT Superkrane at last year's bauma 2022 exhibition in Munich, Germany. Left to right are: Federico Lovera, Manitowoc; Marco Zucchet, Manitowoc; Yafin Tandiono Tan, PT Superkrane; Linayati Sukardi, PT Superkrane; Johannes Wargo, PT Superkrane; Leonard Siow, Manitowoc; Florian Peters, Manitowoc.

The largest rough-terrain crane on two axles will take pride of place at the top of the Indonesian rental company's RT inventory.
Adding the optional 17.6 m jib produces a maximum tip height of 80.8 m and will help the company exploit additional opportunities.
The company completed its purchase at last year's bauma 2022 exhibition in Munich, Germany. During a celebration for the company's latest purchase, Yafin Tandiono Tan, president director, PT Superkrane, said the machine would open up new possibilities.

"We are constantly upgrading our fleet to supply customers with the latest equipment and technology, but our new GRT8120 is no like-for-like replacement. With the longest boom and strongest load charts in its class, it will be the largest crane in our rough-terrain fleet by some distance. Its class-leading reach, capacity, and dimensions will greatly extend our range of rough-terrain applications, and we can't wait to show new and existing customers what it's capable of."

Tale of the tape
Superkrane's GRT8120 was ordered with the optional bi-fold swingaway 17.6 m jib, taking its maximum tip height to 80.8 m when the seven-section MEGAFORM® main boom is set to its full 60 m. It also includes the Boom Configurator function as part of Manitowoc's Crane Control System (CCS) which greatly simplifies telescoping and lift planning. Overall reach for the crane is equivalent to that more commonly found on rough-terrain cranes in the 135 t - 150 t class.

However, the crane's impressive reach does not come at the expense of size, with the overall dimensions actually closer to machines in the 70 t - 90 t class. As expected, powerful lifting performance can be found across the load chart, and at the end of the main boom 8 t can be handled at a 20 m working radius. Overall maximum capacity is set at 120 t with Manitowoc's MAXbase variable outrigger positioning technology greatly increasing versatility, as well as ease of access and setup on congested jobsites.

As the largest rough-terrain crane on two axles, the GRT8120 provides a range of benefits in terms of transport and onsite operation. Those compact carrier dimensions and reduced GVW make delivery to the jobsite much easier and minimize jobsite preparation. Maneuverability is also enhanced, becoming exceptional with the addition of four steering modes, while a 24.1 km/h travel speed with the full, self-rigging counterweight is possible onsite.

The new GRT8120 is scheduled to arrive at Superkrane's Jakarta headquarters in April 2023, where it will join a host of other Grove models, including an RT890E and two GRT8100units from the rough-terrain range. There are also five all-terrain cranes – a GMK4100L, GMK5130, GMK5220, GMK6300L and the first GMK6300L-1 in Indonesia – plus a Manitowoc 8500 crawler crane.

www.manitowoc.com