www.industry-asia-pacific.com
Written on Modified on
Cambridge, UK – Food Tracker systems from Datapaq ensure highly efficient process monitoring and HACCP documentation at the click of a key. In addition to complete temperature profiles and extensive alarm and reporting functions, they offer multiple simultaneous food lethality calculations (F0/Pu value, D-value, chill rate Critical Control Point) and an optimization function that predicts the effect of parameter changes on the process without repeated trial runs. A state-of-art 6 or 8-channel data logger from the MultiPaq21 series guarantees high accuracy, high resolution, and large memory without data loss. Designed for efficient operation, it manages eight consecutive measurement runs before data download to a computer. A start/stop button and an alternative time or temperature trigger provide true ease of use.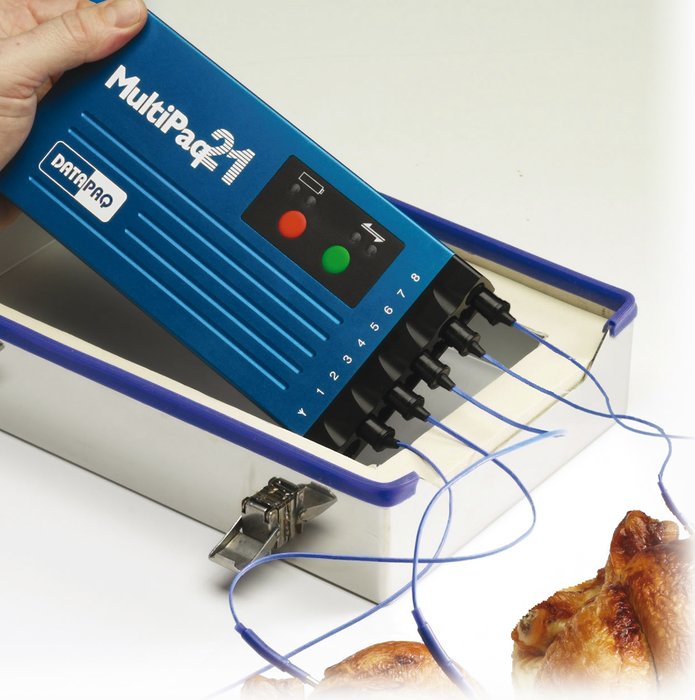 Figure:
Temperature profiling for HACCP-compliant process validation: Datapaq Food Trackers with 6 or 8-channel data loggers
The logger features a serial and a USB interface. For even more direct access and speedier process set-up even from the control level, users can choose additional data transmission via radio as well as real-time data export via OPC ("Open Platform Communications"). The recommended thermocouples are type K and type T which are specially designed to meet the stringent requirements of food processors. The logger has an IP67 waterproof rating and an operating temperature range of -40..85 °C. For even harsher environments, the Food Tracker program includes a range of thermal barriers for all kinds of applications from freezer to fryer.
Datapaq at the Cfia exhibition in Rennes, France:
10—12 March, 2015
hall 5, stand F44