www.industry-asia-pacific.com
Written on Modified on
Two Liebherr R 9200 for NMDC iron mines in India
At one of India's most prosperous iron mines, the Donimalai iron mines, two new Liebherr mining excavators R 9200 have joined the fleet with the goal of boosting future production.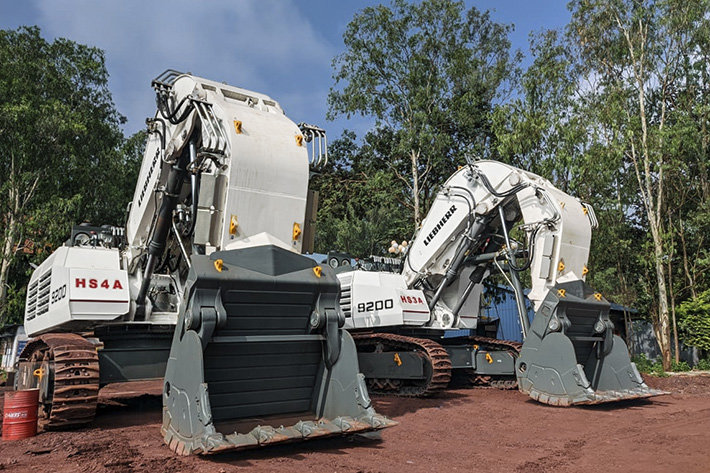 Two Liebherr R 9200 at the Donimalai iron mines in India.
After a shutdown period of more than two years, iron ore extraction started again in 2021 in the Donimalai iron mines in the Indian state of Karnataka in the south of the country. Now, its fleet has grown by a reliable pair: two Liebherr R 9200 face shovel excavators for mining applications. The R 9200 comes with a 12.5 m³ bucket in standard configuration, the class-leading bucket capacity in the 200t class. Both machines received 9 m³ extra heavy-duty design buckets for the highly demanding application of the Donimalai site. Liebherr R 9200 excavators provide maximum uptime not only because of their high reliability, but also because of their easy serviceability and offer peak fuel burn efficiency.
A significant contribution to India's iron ore production
NMDC is India's single largest producer of iron ore with a production of 35 million tonnes per year. Currently, the Donimalai iron mines yield around 20% of NMDC's total yearly production, approximately 7 MTPA. In future, the company wants to boost its iron ore production to as many as 100 MTPA. Together, the two mines located at the Donimalai site comprise a concession area of 597.54 hectares (1476,55 acres). With an allowed mining rate of 0.5 – 0.6 million tonnes per month and an estimated iron resource of around 149 million tonnes, estimates say that the mine will still be exploitable for around 20 – 25 years.
www.liebherr.com