www.industry-asia-pacific.com
Written on Modified on
Mitsubishi Materials News
Mitsubishi Materials Corporation has commenced development of fire-resistant plastic products that will not burn or melt when exposed to flames.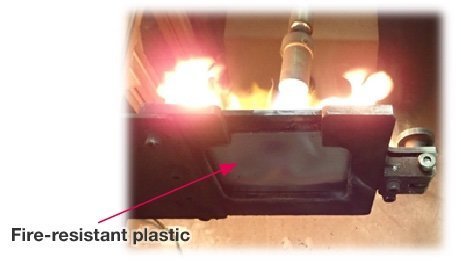 Testing using flames

Fire-resistant plastic that will not burn or melt when exposed to flames.

Plastic materials are used in a variety of products to reduce weight, and flame-retardant plastics are currently widely marketed for their fire proof properties. However, conventional flame-retardant plastics cannot withstand hot fires and metal is still adopted as a material for parts where safety is a priority and this is hindering weight reduction.

In order to resolve this problem, we have applied compounding technologies that we have developed to date to develop a plastic technology for obtaining fire-resistant properties of not burning or melting when exposed to flames. From now on, we will make use of this technology to work on the commercialization of "fire-resistant plastic."

Under our corporate philosophy of "For People, Society and the Earth", the Mitsubishi Materials Group will continue to help build a prosperous society through developing and providing nonferrous metal materials and high-value-added products.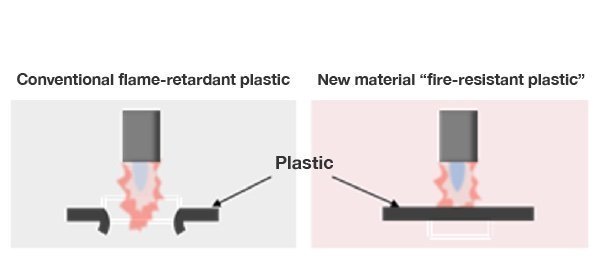 Exemplary test results

Features of the new material "fire-resistant plastic"

Lightweight, yet flame-resistant, little deformation and melting.
Does not burn easily when exposed to flames, it is expected to prevent the fire from spreading in the event of ignition.
Easy to mold. (can be used in injection molding)
Halogen-free with little environmental impact.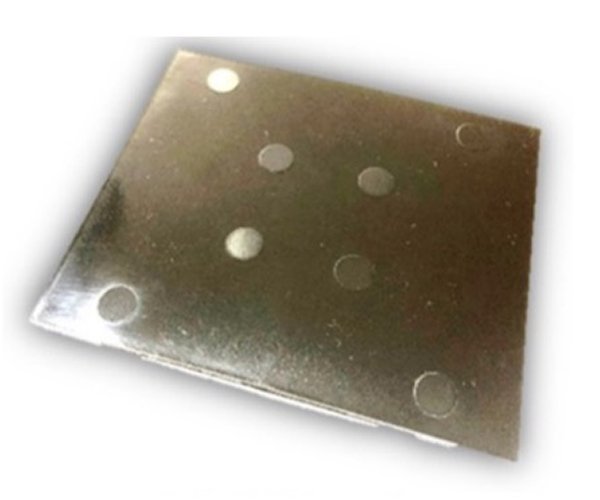 Fire-resistant plastic (plate)

Specific application example
Lithium-ion battery (LIB) case material
Even if one LIB cell ignites, it is expected to prevent the fire from spreading to adjacent cells.
When used for the lid of the LIB of an electric vehicle (EV), the LIB can be expected to be prevented from igniting or exploding even if the vehicle is on fire.

www.mmc.com