www.industry-asia-pacific.com
Written on Modified on
SPS IPC Drives 2018: Advantech showcases the latest Industrial IoT Solutions and Solution Ready Packages aimed at Enabling the Digital Transformation in Manufacturing
Advantech, a leader in providing trusted, innovative products, services and solutions, is showcasing its latest solution-ready packages (SRP) technologies and industrial IoT (IIoT) solutions co-created with our partners at the SPS IPC Drives exhibition held in Nuremberg, Germany, from November 27 to 29, 2018. Adopting "Enabling Digital Transformation in Manufacturing" as its theme, the Advantech IIoT Experts aim to assist manufacturers with the transformation to Industry 4.0 to enable smarter, more efficient operations.

During SPS IPC Drives Advantech will showcase the so-called "4C concept": Collect, Connect, Compute, Create – a collection of demos connected to the situation room present at the booth to show how the data from the field can be easily aggregated, analyzed and displayed.
Recently Advantech introduced new features for WISE-PaaS 3.0 and shared a number of IoT solution ready packages (SRPs), based on WISE-PaaS, developed with numerous co-creation partners. The company also outlined future co-creation strategies and schedules for the upcoming year.
Allan Yang, Chief Technology Officer at Advantech said, "While IoT is currently flourishing, and many companies have invested in connectivity and data collection equipment, we are still in the early stages of generating value from IoT data. Since WISE-PaaS launched in 2014, Advantech has continued its integration and improved connectivity with open source communities. Our IoT software modules are developed to create operational cloud platform services oriented around the commercial value generated by data acquisition. Data-driven innovation has thus become the main target for our WISE-PaaS evolution."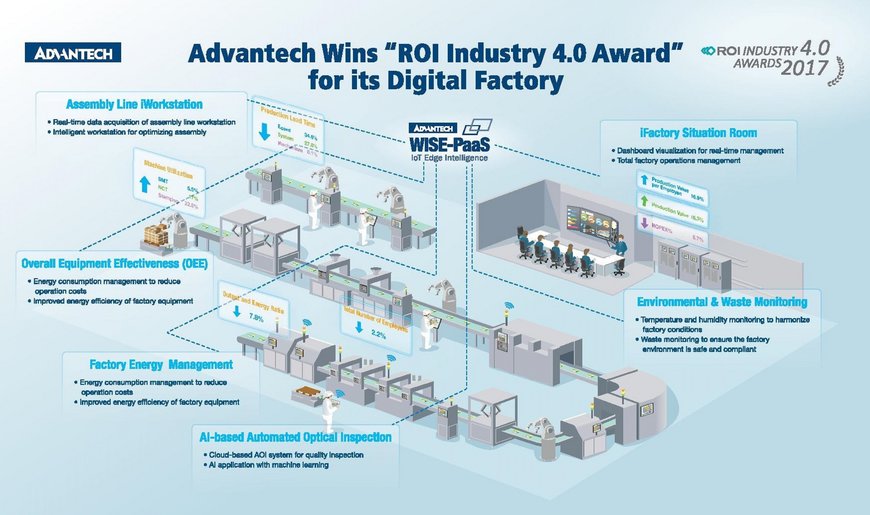 Process Visualization of OEE in Manufacturing
Overall Equipment Efficiency (OEE) is an increasingly important KPI in today's production environments. Advantech provides its customers with a one-stop solution, integrating all the different steps from raw data collection through to creating meaningful KPI data. This demonstration shows this capability in a simulation from the factory floor to the back office using just some of the high technology options we offer at each level in the architecture.
Advantech offers I/O interface solutions for wired and wireless data recovery, using a variety of transmission media and protocols. The Wi-Fi connected WISE series used for the demo offer a flexible selection of remote I/O configurations creating digital data that can be shared via Modbus, MQTT or REST.

Equipment Interface and Control
For equipment and machine builders, saving space and reducing maintenance costs are major motivators of innovation and optimization in machine design.
This demonstration combines automation control, motion control and vision inspection within a single system, eliminating integration effort and increasing reliability. The system additionally provides direct connection of an industrial monitor acting as a local HMI, with data also available to the enterprise level via standard protocols and interfaces.
EtherCAT, used in this demo, is just one of several fieldbus connectivity options offered across a range of Advantech edge and communication products, with flexible protocol conversion provided by simple user configuration. The demonstration also leverages CODESYS soft PLC capabilities, PoE switches and Advantechs WebAccess SCADA solution.
Wireless Sensing
Often in industrial environments, potentially useful data is not recovered into IT or OT systems because the cost of recovering the information outweighs its value.
Wireless sensor networks can provide a significantly lower cost of recovery by eliminating the necessity to lay cables, meaning that a large proportion of these previously stranded data points can be made accessible to the enterprise.
Advantech is showcasing a range of local and wide area wireless sensing solutions built upon a variety of wireless technologies. Besides enhancements to the existing Wzzard local area mesh system, also shown will be the newly launched WISE-4471 NB-IoT sensing node, which has already completed validation on Vodafones NB-IoT network in Ireland, and is being validated in other European countries as the networks roll out.
Finally Advantech has further expanded its line of wireless products with the launch of the WISE-6610 LoRaWAN gateway and Wzzard LRPv2 LoRaWAN node. Suitable for both public and private LoraWAN deployments, the underlying wireless technology offers an effective solution enabling users to have better control and management for applications in remote areas (e.g., for flood monitoring) and harsh environments (e.g., extreme temperatures, high humidity) overcoming the challenge of distance, thereby maximizing monitoring efficiency and overall productivity.
Co-creating the Future of IoT
That's the slogan of Advantech starting from the big event in Souzhu, China, on Nov. 1-2, the "IoT Co-Creation Summit". In the three phases of IoT growth, Advantech is transforming from a hardware provider to a service provider and we are actively engaged in co-creating domain-focused solutions with partners from various industries. To facilitate this co-creation eco system, Advantech organizes the 2018 Advantech Co-Creation Summit and during SPS we will host our partners at the booth to showcase the total solution to the customers, from hardware to software, to services.
As an example of co-creation, during SPS Advantech will showcase a Time Sensitive Networking demo presented on High Performance Rugged PPC for MES, showing how TSN guarantees data transport with bounded low latency, low delay variation and extremely low loss.
"We are optimistic about the European IIoT market, and we welcome more partners to join us in embracing increased business opportunities with Industry 4.0," declared Jash Bansidhar, IIoT Sector Head – Advantech Europe.
Supporting the Manufacturers Digital Transformation
Industry 4.0 is now up and running and the results are beginning to take shape. We are talking about the digital transformation of the customers process in order to improve efficiency, throughput and reduce downtime, energy losses, quality issues and product losses. Most companies are in a stage between strategy, definition & orientation through Proof of Concepts and change management and large scale implementation. In these stages we will experience challenges what need to be addressed, like Data ownership, data context, avoid to create data silos and to have one version of the data. But also the connection with the (legacy) equipment and machines, (cyber) security and (wireless) infrastructure are topics to define very carefully. Also once the implementation has been finalized and the first results are coming in, how to manage the application now and in the nearby future supporting maximum flexibility and maintainability – both hardware, software and infrastructure. This requires the help of experienced and domain focused partners.
Advantech as Global IoT Enabler has created a working model in order to bring the best domain focus knowledge & technologies to the customer by setting up a dedicated partner network. We call it Co-Creation, and a number of our partners will be showcasing their expertise across multiple domains in a dedicated partner solutions area on our booth.
In addition to our traditional German partner demos, AMC (condition monitoring solution), GBM (real-time OT solution ready platform for Programmable Automation Controller), Inonet (customization and OEM services), Lucom (predictive maintenance & IoT Solutions) and Sphinx (smart IoT infrastructure), we will also have demos from other European partners such as ErreUno, an eco-partner showing a live demo about Predictive Maintenance and Remote VPN Assistance. This highlights the full integration of Advantech hardware, Codesys software and Eagle-eye remote VPN assistance - a solution aimed at preventing failures in the production plant with a visible reduction of the costs of maintenance and enabling predictive technology through VPN, audio/video and augmented reality.
Finally we will also have a demonstration from our Global partner Atos. Together, Atos and Advantech are actively engaged in co-creating domain-focused solutions like Industrial IoT for manufacturing, retail, and transportation. At the Advantech booth, Atos demonstrates various IIoT solutions on how to securely cloud-enable the Industry 4.0 factory, both on the Edge and in the Cloud.
We wait for you on Nov. 27-29, 2018, in Nuremberg (Germany) in Hall 7 – Booth 180.