www.industry-asia-pacific.com
Written on Modified on
Build your rail systems with Advantech
Rail operators and maintainers, train manufacturers and passengers demand increasing automation and improved services. Advantech responds with a comprehensive range of products to support the train and rail infrastructure. These support rolling stock and station passenger information systems (PIS), in-train and quayside surveillance systems, ticketing, railway signalling, integrated supervisory control systems (ISCS), driver monitors for systems and mirrors and the communication systems for the train backbone network, train-to-ground communications, asset management, surveillance and condition-based monitoring.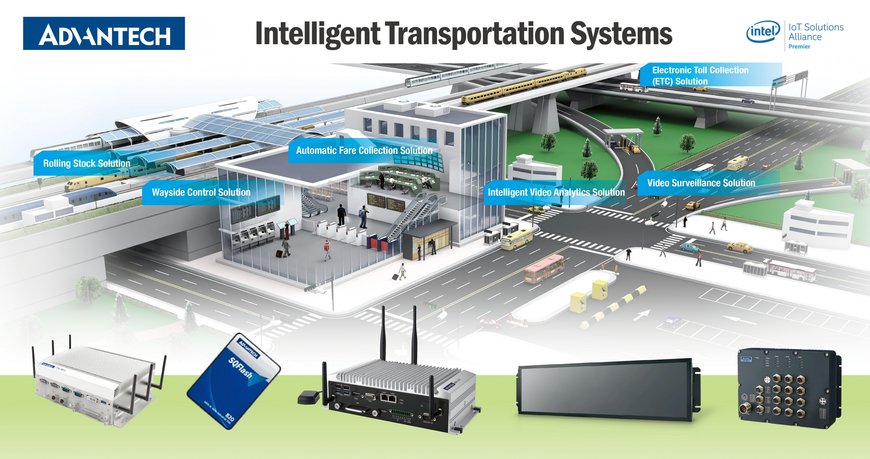 Advantech supports the global standards essential for easy homologation with rail and network operators. For station applications, Advantech supports worldwide implementation with long-life products – now up to 15 years plus Advantech Longevity solutions of 3 years. Trackside, Advantech's products come with EN-50121 compliance. On-board, all Advantech products are certified for EN-50155, Tx for controllers and T1 for products installed in passenger areas. In addition, Advantech supports EN-45545 for fire safety.
As can be expected from the world's largest manufacturer of industrial computers, Advantech has a wide range of on-board, trackside and station controllers. These range from tiny units designed for operation inside barriers, vending machines and ticket validators, through mid-range computers for CCTV or infotainment, to powerful servers and datacentres. Each computer can be configured for specific projects, with the addition of a wide range of communication options, operating system and application, and third-party cards. As well as off-the-shelf (COTS) products, Advantech provides a full customisation service, tailoring standard products for OEMs and operators, or designing complete new products.
All computers support a wealth of communications and I/O options. Serial connectivity is still essential for many applications, and Advantech supports up to 20 optically isolated COM ports. LAN connectivity is provided by fibre-optic or copper up to Gbit speeds. Wireless options include WiFi, Bluetooth, and new low-power, long range, LoRa, LoRaWAN and Sigfox. Wide area network communications (WAN) are provided by cellular modems. Multiple modems and multiple SIM cards per modem are supported. On-board computers typically use robust M12 and M23 connectors that protect against dust and water ingress, but also resist vibration and shock.
As well as computer products, Advantech manufactures switches, routers and a wide range of connectivity products for serial, Ethernet, fibre-optic and wireless communications. Ethernet switches for on-board use are support Gbit speeds for backbones and Power over Ethernet (PoE and PoE+) for vehicle switches. Train builders can equip their train with a complete train network. Trackside, Advantech's 50121-compliant managed and unmanaged switches provide the infrastructure for surveillance, control and platform applications.
Advantech also manufactures the world's first range of pre-certified (50155) stretch displays, available in 19", 28"and 38" versions, either as monitors or as intelligent thin-clients. Installed in passenger areas, these project passenger information and entertainment.
In summary, Advantech's products for station, trackside and on-board applications, reflect the company's stability, reliability and longevity.