www.industry-asia-pacific.com
Written on Modified on
CUMMINS INDIA AND SUDHIR POWER SET TO REVOLUTIONIZE THE POWER BACKUP SECTOR IN DELHI NCR
Customers in Delhi NCR can now access the complete range of Cummins-powered CPCBIV+ compliant gensets. Customers can avail of support for Cummins products throughout their lifecycle across the country.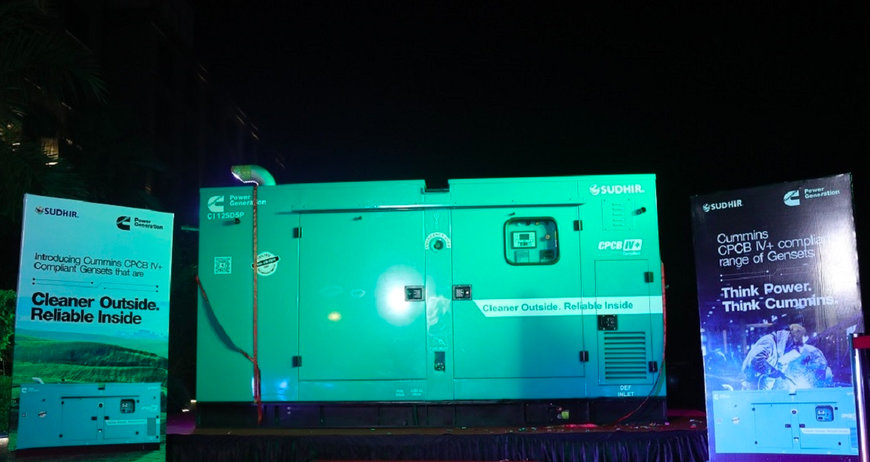 Cummins India Limited and its authorized Genset Original Equipment Manufacturer (GOEM), Sudhir Power Limited, unveiled the CPCBIV+ compliant genset range for the Delhi NCR markets. Manoj Nair, Power Generation Business Leader, Cummins, and Rahul Seth, Managing Director, Sudhir Power Ltd., unveiled the genset range during an exclusive product reveal event attended by over 100 customers and company officials in Gurugram, Haryana.

Integrated with cutting-edge technology, these Cummins-powered CPCBIV+ compliant gensets are designed to meet the most stringent emission standards for the genset industry. They are equipped with advanced after-treatment systems, integrated control modules for the engine, and next-gen monitoring devices resulting in better fuel efficiency, improved load-taking capability, and reduced emissions. These gensets are well-suited for a wide range of applications, including manufacturing facilities, healthcare institutions, commercial buildings, infrastructure, and construction sites.

The Cummins-powered CPCBIV+ compliant genset range not only provides innovative power solutions but also ensures that customers continue to receive exceptional support throughout the product lifecycle. From installation to maintenance and beyond, both companies are committed to providing the highest level of service to ensure that these gensets continue to perform at their best, delivering reliable and clean power to esteemed customers.

Cummins introduced its CPCBIV+ emission-compliant genset engines ranging up to 800 kWm, on July 5, 2023. These standards, enforced by the Central Pollution Control Board (CPCB) since July 1, 2023, are comprehensive and stringent, resulting in a 90% reduction in particulate matter (PM) and harmful oxides of nitrogen (NOx) concentration compared to CPCBII norms. Furthermore, these new standards apply to both prime and standby gensets, covering all fuel types with a power output of up to 800 kWm.
www.cummins.com