www.industry-asia-pacific.com
Written on Modified on
Southco, the long-established provider of innovative access hardware solutions, has helped pharmacy automation specialist NewIcon to optimise its line of automated electronic medical cabinets with a highly innovative electronic rotary latch. Having searched high and low for a suitable programmable lock solution, NewIcon was delighted to find that Southco's R4-EM- 64-161 electronic rotary latch fitted the bill exactly.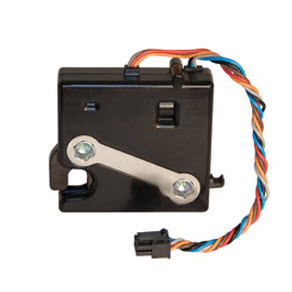 The challenge
NewIcon Oy was founded in 2007 and has its headquarters in Kuopio, Finland. The company develops, manufactures and sells pharmacy automation systems that are used in the storage logistics, compounding and dispensing of medication. This is a key market in the healthcare sector, since automation is becoming increasingly widespread in the management of medicines from stock control to final dispensing. Automation permits the tracking and monitoring of pharmaceuticals, efficient stock control and the prevention of inappropriate access.
NewIcon produces a line of medical cabinets that both prevent unwanted access and track the medicines stored within them. Each cabinet can only be opened if the user logs in successfully. Therefore, when creating the product, NewIcon needed a rotary lock that could be controlled using the company's own software. Given the nature of the cabinet and its contents, the lock had also to be relatively small but very robust and reliable. However, NewIcon found that sourcing such a product presented quite a challenge.
The solution
NewIcon discovered Southco's electronic rotary latches, and in particular the R4-EM-64-161, which finally provided the simple, versatile electromechanical latch solution that NewIcon was seeking. The R4-EM can be fitted with a 12-24 volt DC power supply and any access control device to provide secure, concealed electronic access. The optional internal microswitch provides an output signal that can be used to remotely monitor latch status or control external systems. In this case, it allows NewIcon's cabinets to both selectively restrict access and monitor their contents.
The results
Marja Jaurakkarjärvi of NewIcon is delighted with this outcome. She explained: "The future for automated medical storage and dispensing is very bright, the market is huge, but at NewIcon we must continue to supply innovative products that fully meet our customers' needs. Working with Southco is helping us to achieve this; the solutions that Southco provides help NewIcon to use new technologies and innovative thinking to develop next generation solutions and extend the possibilities of automation."
Richard Pearman, Business Development Manager of Southco, agrees. "From Southco's founding in 1899 to the modern technological age, this company has always worked hard to stay one step ahead of developments in the market, and to provide innovative and versatile solutions. We are delighted to have helped NewIcon to achieve their objectives in this case, and look forward to doing the same for them, and for others, in the future."
Southco stocks more than 25,000 standard catalogue products and has created more than 50,000 customer products to meet clients' design requirements. To find out more about Southco and the products it offers, please visit www.southco.com.