www.industry-asia-pacific.com
Written on Modified on
Conrad: Voltcraft Are Redefining Multimeters
The new multimeter design standards from Voltcraft feature improved displays, a new type of housing, and a tailored range of functions.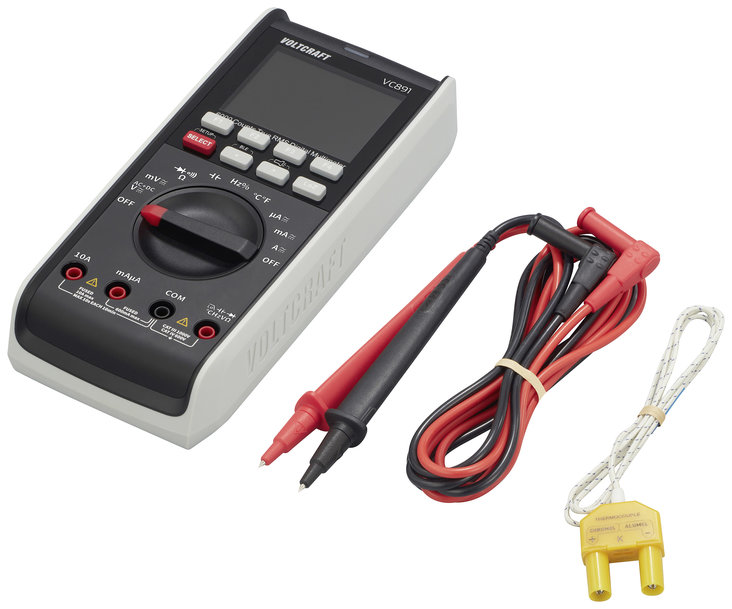 Flagship product of the VC-800 series with unrivalled features: the VC-891 handheld multimeter is now available from Conrad Electronic.

Positive feedback: new multimeters surprise customers at the trade fair booth
High-level innovation: magnet technology and ultra-flexible test leads
Reliable readings: improved accuracy across all testing functions
Tailored practical solutions and innovative designs prioritising user-friendliness, to make using the meters in an industrial environment as efficient as possible. This is what Voltcraft had in mind when deciding to improve their multimeters. The completely revamped housing side parts feature protruding edges that protect buttons and display from mechanical impact, making VC-800, VC-200 and VC-100 series multimeters non-slip, grippy and extremely durable. Moreover, the devices are more accurate and come in a new look that includes rounded corners, buttons covered by the display screen and back-lit selector switches, all of which helps boost the user- friendliness of the products.

Promising Customer Feedback at the Electronica
"The new Voltcraft multimeters are now available on the Conrad Sourcing Platform," says Susanne Storch, Product Manager at Conrad Electronic. "Moreover, people can check them out first-hand by paying a visit to our company's booths at this year's All About Automation trade fairs."

The products, showcased for the first time at last autumn's Electronica, were receiving very promising customer feedback. "The new equipment did surprise a lot of people," Storch continues. "Mainly because most folks thought that, in terms of innovative multimeter design, we had already reached the end of the road. Well, the latest Voltcraft meters do prove otherwise."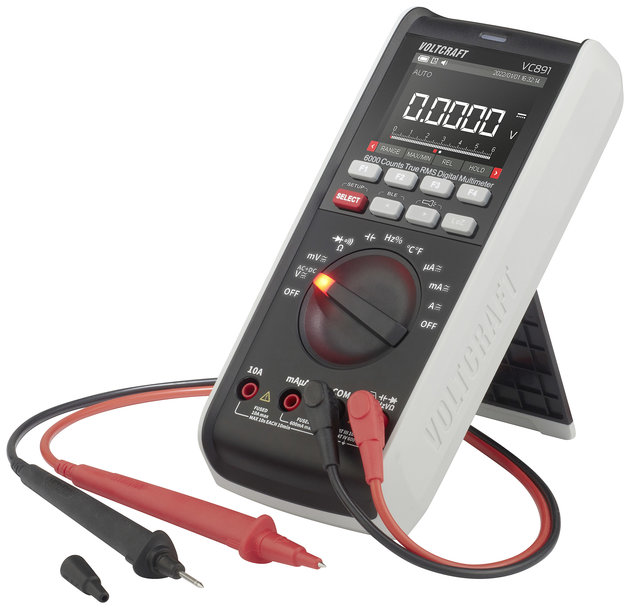 Setting New Standards: the VC-891 Handheld Multimeter
The flagship product of the VC-800 series caught the eye of tradespeople, electronics engineers across the industries and designers working in R&D thanks to its range of tailored functions: the VC- 891 comes with a high-contrast TFT display which is easily readable from all angles and whose settings can be adjusted to actual light conditions and personal preferences. Display modes include a dark-on-light and light-on-dark option. 60,000-count resolution and 99.97 percent accuracy put this handheld multimeter in the same league as stationary test equipment commonly used in research facilities.

Innovative Magnet Technology and Ultra-flexible Test Leads
The housing features embedded powerful neodymium magnets that keep the device attached to switchboard enclosure doors. Moreover, you can attach one of the test probes to the housing which makes meter and probe a unit that can be operated with one hand, with the free hand holding the other test lead, making contact with the test point. When it comes to flexible test leads, the product features another innovative first not offered by other brands, namely a two-layer silicon jacket with a wear indicator, both being partly responsible for the outstanding bendability. Another degree of flexibility is provided by thin-wire braid stranded with non-tear plastic filaments.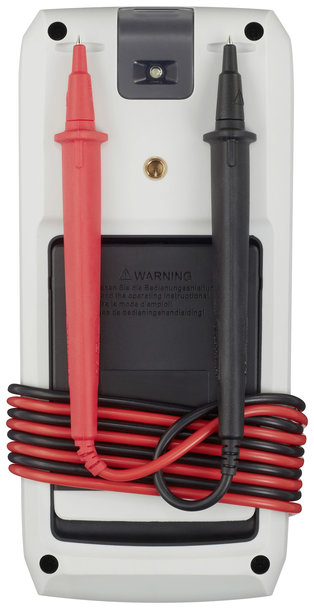 "In terms of multimeter design, using technology like magnets and high-flexibility leads in the VC-800 multimeter series was something unheard of," Storch explains. "Which underlines the fact that the design of these top-tier products centres entirely around actual challenges that people face at the workplace."

Data Transfer, Speech Output and Data Storage
And the VC-891 packs even more tech, such as Bluetooth LE 4.0 protocol to communicate with Android and iOS devices, app-based speech output, and the option to operate the multimeter via a smartphone, e.g. in the event you want to switch to Delta mode. Readings are displayed on phones and tablets in the form of charts and tables.

All data are stored on the device, ready to be exported or forwarded by email at a later time. In this context, readings collected by three VC-891 devices can be viewed at the same time, with graphs shown in different colours to help you spot changes over time right away.

Improving User Safety during Training and at the Workplace
Safety is key when it comes to using test equipment in a training and education setting. To make battery change safe, Voltcraft's VC-800 and VC-200 multimeters feature a unique safety housing: connecting test probes results in the battery compartment being locked while the probe jacks get blocked whenever the battery compartment is open.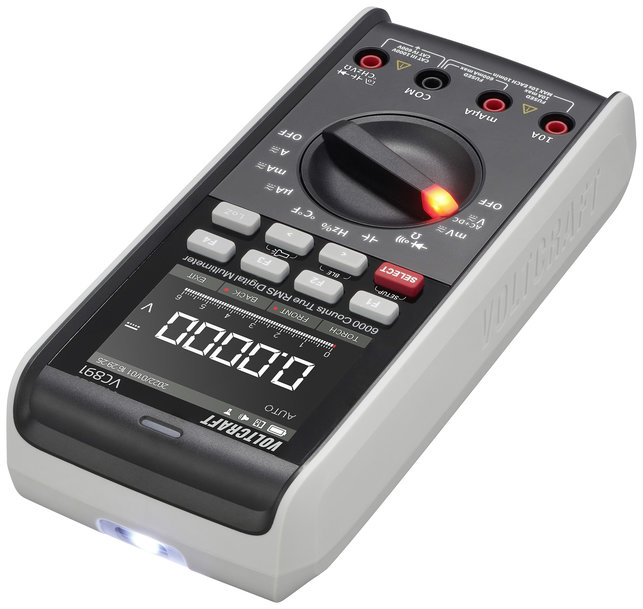 Another highlight of the VC2-200 series designed especially for the training and education sector is the test socket selection assistant that helps you choose the appropriate probe jack, emitting acoustic and visual signals to alert you if you do something wrong. What's more, the devices use resettable instead of the usual glass fuses: in the event of a current surge, they trip and auto-reset after a brief cool-off, allowing you to resume the task. This makes the tedious, and in the long term quite expensive, changing of fuses a thing of the past.

An overview of all the latest Voltcraft VC-800, VC-200 and VC-100 series multimeters is available here. Learn more about the VC-891's impressive range of functions here.

www.conrad.com