www.industry-asia-pacific.com
Written on Modified on
In March of this year, BCN3D Technologies announced that its constant strive for innovation had led the 3D printing experts to its never-before-seen 3D printing technology using high viscosity resins.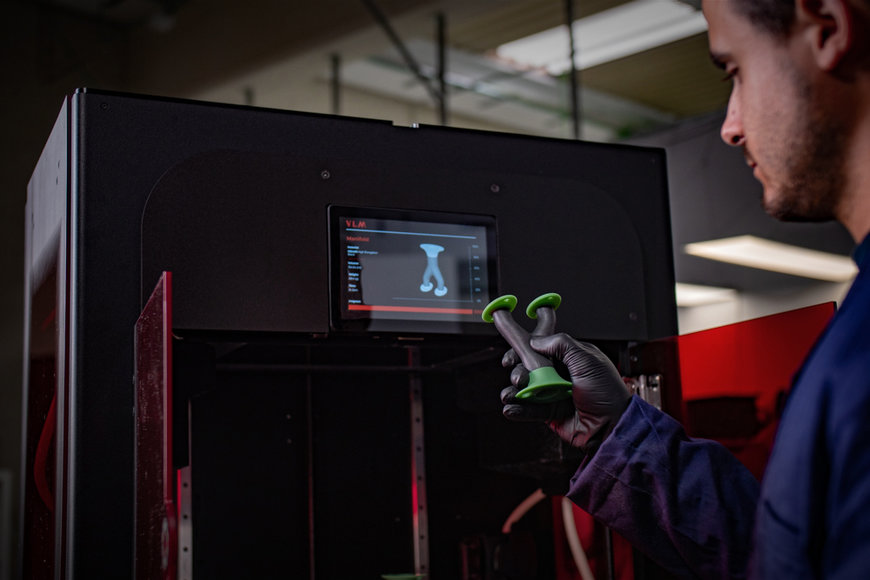 A multi-material rigid and flexible part printed with a VLM printer, as shown behind.

In March of 2022, BCN3D unveiled the ground-breaking new 3D printing technology known as Viscous Lithography Manufacturing (VLM)™ and its unique use of high viscosity resins that unlocks manufacturing autonomy for any manufacturer looking to take full control of their production processes using Additive Manufacturing (AM)
At the core of BCN3D's go-to-market strategy lay the VLM Technology Adoption Program (TAP) for those interested in becoming early adopters, which has received an astounding amount of applications from more than 500 companies so far
20 applicants from the TAP will be selected to acquire one of the first commercial VLM systems in Spring 2023, which are expected to be installed in North America, Europe, and Asia
Developed over the course of the last 3 years, the patented Viscous Lithography Manufacturing (VLM)™ provoked mass interest worldwide, with more than 500 companies registering to become early adopters of the development of this ecosystem. BCN3D has responded to the demand by partnering with Arkema and Henkel to obtain material properties and applications otherwise unreachable with other resin-based technologies, and by revealing its commitment to delivering VLM systems to 20 of the companies currently enlisted in its Technology Adoption Program during Spring 2023.

The Technology Adoption Program has been inundated with registrations. Received applicants have come from far and wide, with the United States dominating the majority, followed by Germany and other European countries. BCN3D began rolling out local operations in North America in late 2021, and in April use cases with VLM were publicly presented during the Rapid+TCT show in Detroit, resulting in a peak in the Technology Adoption Program registrations.

The initial premise for this accumulation of early adopters was to orientate the go-to-market through gathering market information across a wide scope of vertical markets. This way, BCN3D is able to pay specific attention to the real needs of customers, especially when it comes to those within Manufacturing, Automotive, Engineering, Dental, Prosthetics & Orthotics, Jewelry, Product Design, 3D printing services and footwear.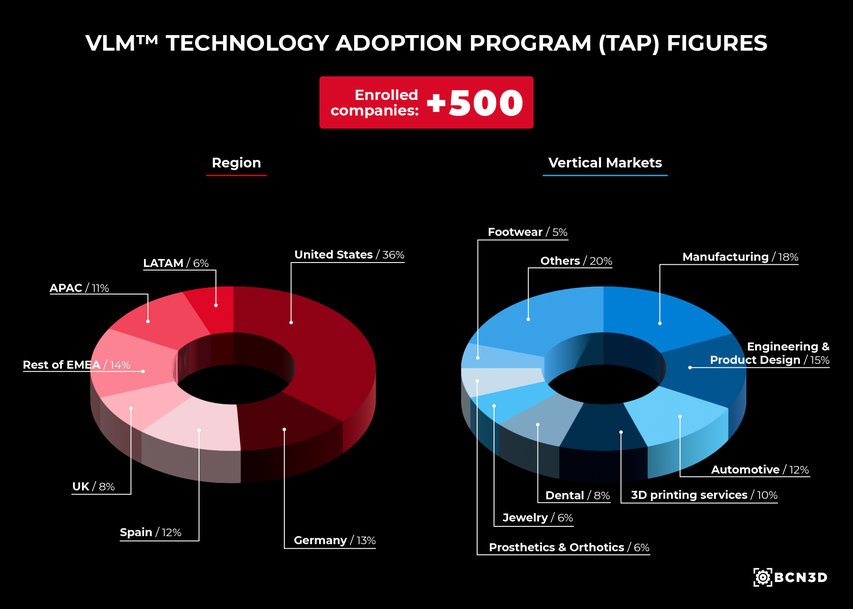 Gained insights from the VLM™ Technology Adoption Program
The diversity of the early adopters brings BCN3D some valuable insights: current AM limitations can be detected with precision, industry and material trends can be identified, and the company has personal contact with the engineers operating the 3D printing labs in a variety of companies. VLM's versatility makes it capable of covering the entire fabrication life-cycle, from product design to fabrication. BCN3D believes that the benefits will be made extremely apparent in prototyping and end-use parts.

VLM was devised to simultaneously accomplish the three main pillars of providing superb part performance, a high production capacity, and accessible and frictionless operation, thus unlocking complete manufacturing autonomy. Since all manufacturers equipped with this technology can experience full control over every stage in their production processes with AM solutions, the findings from the Technology Adoption Program point to some interesting applications that are on the rise.

Some of the main applications taken from this research include low emission end-use parts, elastomeric components, biocompatible parts, and the mass-customization of high-temperature and high-resistance parts. Furthermore, multi-property opportunities in the medical sector range from the need of different biocompatibility requirements in dental, to complex combinations of rigid and flexible parts in prosthetics and orthosis. Last but not least, regarding the mass production of functional parts, the obvious applications include nesting strategies with water-soluble supports without manual polishing or overmolding solutions. Among this wide variety of applicants are those participating in material development. These elite AM users are testing and furthering new ways to utilize the high viscosity resins that make VLM so unique.

"The overwhelming initial reception for our most recent innovation has surpassed our expectations and set the tone for the onset of the distribution of our first VLM commercial systems. We've been able to hone in on what really matters to each individual company by gathering real, tangible information from experienced engineers. We're aware of special interest regarding multi-material, and thus multi-property and water-soluble applications. Of course, functional materials also hold huge potential. "- Xavier M. Faneca, CEO of BCN3D

What's still to come next Spring
The response to the VLM technology release has exceeded expectations and BCN3D's VLM agenda is to now make the jump to a fully-fledged hardware system to serve the world's most experienced Additive Manufacturing teams. BCN3D is selecting 20 elite customers to become the first to acquire these systems which will be installed in their own facilities during the spring of 2023. This will grant each company in-house accessibility while still maintaining continuous contact and support from the dedicated materials and applications engineers at BCN3D that make up the application development service.

All in all, VLM's increasing popularity stems from its way of solving manufacturing autonomy otherwise unachievable by existing ways in the current AM market. Following on from the success of the release and registration to the VLM Technology Adoption Program, BCN3D has set out to implement a powerful go-to-market strategy for the commercialization of VLM printers. In November 2022, users and enthusiasts can look forward to even more updates regarding VLM at the international Formnext exhibition and conference in Frankfurt, Germany.

The VLM Technology Adoption Program is still open for new applications, as well as the opportunity to be one of the companies to apply for the VLM units during Spring 2023. Following on from the high volume of applications, BCN3D is putting a strong focus on granting extended access to the dedicated VLM Printing Center and to develop its application service with more dedicated materials and application engineers.

www.bcn3d.com