www.industry-asia-pacific.com
Written on Modified on
Multi-tools are made up of many parts, and Image Dimension Measuring Systems make inspecting them all faster and easier.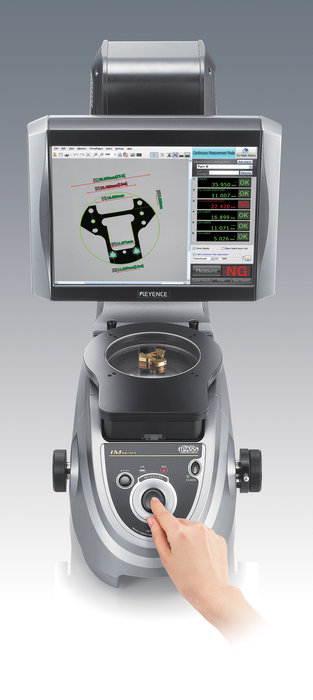 Multi-tools from Leatherman Tool Group Inc., Portland, Ore., may contain screwdrivers, knives, files, and many more useful tools in a single unit. The tools, some small enough to fit on a keychain, are known and loved around the world by everyone from homeowners taking on a weekend project to first responders, military personnel, and even medical professionals.
"We produce a lot of parts from start to finish," explains Leatherman Gauge Technician David Knight. "We don't have a foundry here, so for cast parts we receive blanks and we do the machining. For most of our steel parts, we get rolls of steel, blank them and machine them, heat treat them, and then assemble them."
Leatherman uses measuring equipment ranging from micrometers all the way up to a coordinate measuring machine (CMM) to inspect parts at various stages of the process, including sampling of incoming lots, first-article inspection, and production quality assurance. The company recently began using IM series dimensional measurement vision systems from Keyence throughout its plant to quickly and reliably measure multiple features of a wide variety of parts. Users simply place a target part on the IM system's stage and press the button. The system then automatically measures up to 99 points in a matter of seconds with repeatability of ±1 micron. The speed, flexibility and ease of programming and use of Keyence IM series systems make them ideal for inspection of Leatherman's large variety of parts.
"I do a lot of programming for the IM systems, and for simple parts I can have a program in ten minutes," Knight explains. "Even for the most complex parts we inspect on the Keyence, I can have a program done and evaluated in an hour or two. We've got dozens of programs on our three IM systems that measure up to 50 features on some of our more complex parts. But for me, the best thing about the systems is their production inspection capability. They're just easy to use. There's no chance of operator error—operators just place the part on the stage and push the button. No matter who does that they're going to get the same results in just a few seconds. It's a big time saver, and knowing that everybody's going to get the same measurements when they use the system provides peace of mind."
The Keyence systems replaced hard gauging that Leatherman used for many years to evaluate components for its multi-tools, eliminating cabinets full of hard fixtures built for specific parts. Getting a fixture designed and fabricated in the company's machine shop could take weeks, but the Keyence systems enable Leatherman to get parts up and running with full inspection capability in a matter of minutes or hours. The systems also easily handle Leatherman's tolerances, which are important to proper assembly and function of its multi-tools.
"There's a lot of interaction between the parts we make," Knight says. "Our parts all have to fit together in one tool, so tolerances are tight, most commonly ±0.001 inches and ±0.003 inches. Hole position tolerances are especially important."
Training Leatherman personnel to program and use the IM systems has also been fast and easy. Knight says operators can be trained in just a few minutes, enabling them to check parts themselves rather than bringing them to the quality department for evaluation. The location of Leatherman's three IM systems near machining centers, stamping presses and other production equipment on the shop floor also facilitates first-article inspection, process control and troubleshooting.
"We were looking for new technology to improve our measurement capabilities. Keyence was one of the companies we contacted. They demonstrated the IM system, we liked it and we bought it. Now we have three of them, and we're looking to add another system with a larger stage next year. A lot of companies come through here demonstrating new equipment and tooling. Keyence was one of them. They said, 'We think we have the solution to your inspection needs,' and they delivered. The ease of programming and operation of the IM system is the main thing for me. It's just so easy and accurate, it improves our quality while it eliminates a lot of the training and measurement time," Knight concludes.
www.keyence.com/LMIM