www.industry-asia-pacific.com
Written on Modified on
Teamcenter interface expanded An advanced interface between Eplan and Teamcenter has been launched. The interface includes bi-directional catalogue part synchronisation of the E-CAD and PLM part libraries. Synchronisations can be set either regularly or on demand. The new integration includes functions for creation and update of parts data and supports the latest Teamcenter releases.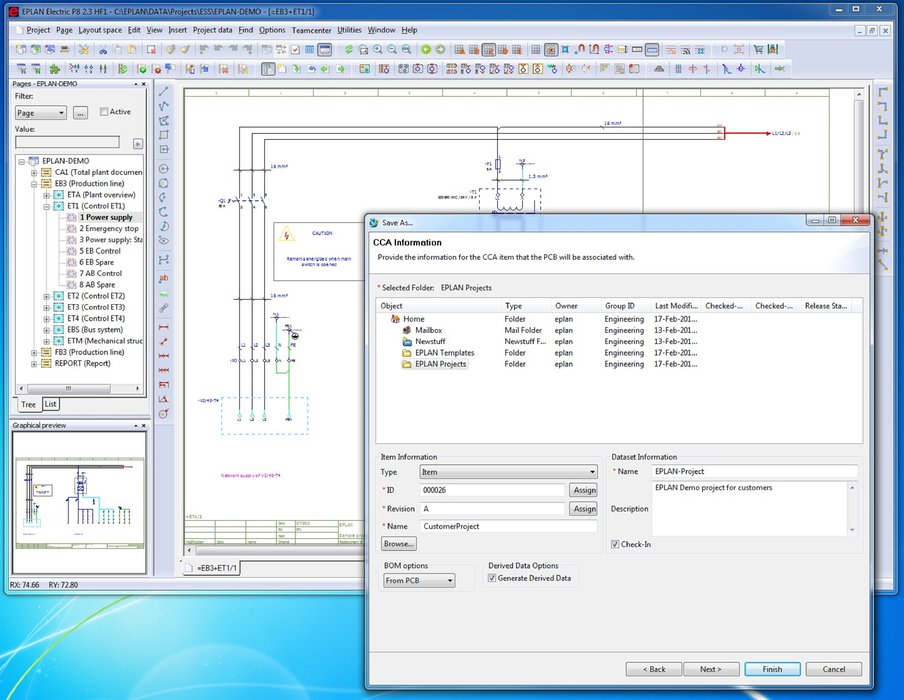 Eplan Teamcenter.jpg:
Data matching across different disciplines – Eplan projects can easily be incorporated into Teamcenter.
Monheim, 8 October 2014 – An expanded interface between Eplan and Teamcenter
®
software, which offers more functionality, including catalogue part synchronisation and expanded support for Teamcenter releases is now available. This allows the Eplan parts database to be matched with the data in Teamcenter. While the previously integrated functionality – announced one year ago – has been well received, users have been eagerly awaiting the electrical engineering interface between Eplan and Teamcenter. Project data from Eplan Platform can now be worked on directly in Teamcenter, the world's most widely used product lifecycle management (PLM) portfolio. The integration module for Teamcenter seamlessly embeds Eplan Platform solutions into the PLM environment. Electrical engineering has now become a component of the digital product model. E-CAD data such as connection lists, bills of materials and Eplan reports complete the product model.
Create, save and revise parts lists
The interface covers the essential requirements of Design Data Management. These include management of construction data for Eplan; opening, saving and revising data; support of all approval and change processes; creating and updating Eplan evaluations; bi-directional synchronisation of project attributes; adopting naming and numbering rules from Teamcenter; creating, saving and revising Eplan bills of materials in Teamcenter; as well as the authentication of Eplan users and authorisation allocations in the Teamcenter environment. The integration of Teamcenter functionality in the Eplan user interface means that users can easily access Teamcenter from their familiar working environment. The Eplan integration for Teamcenter supports Eplan Versions 2.2, 2.3 and shortly 2.4 as well as Versions 9.1 and 10.1 of Teamcenter.
Note:
Teamcenter is a trademark or registered trademark of Siemens Product Lifecycle Management Software Inc. or its subsidiaries in the United States and in other countries. All other trademarks, registered trademarks or service marks belong to their respective holders.