www.industry-asia-pacific.com
Written on Modified on
Thermocoax meticulously inspects the quality of all its mineral-insulated cables. Keyence's VHX digital microscope is part of a powerful arsenal of instruments the company uses to check every characteristic of these high-tech cables.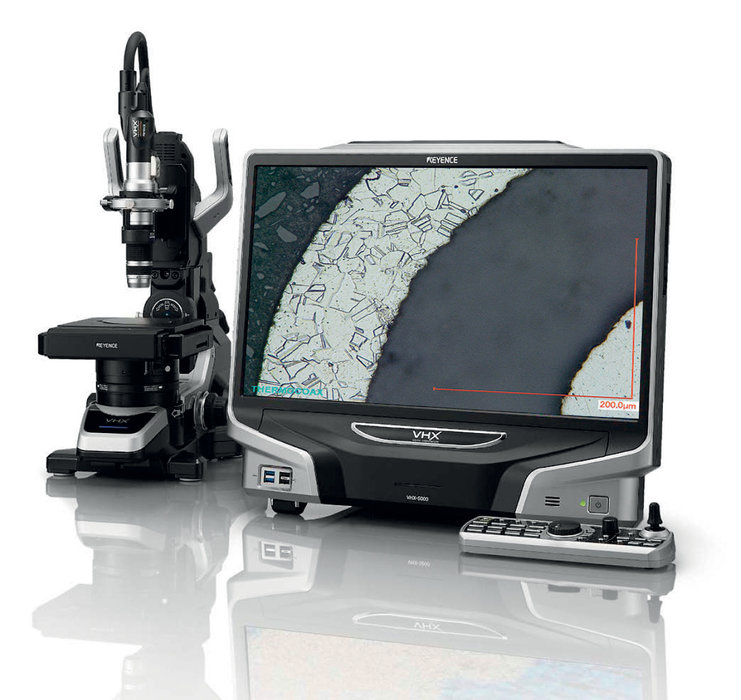 Thermocoax specializes in the design and manufacturing of mineral-insulated (MI) cables for a wide range of industrial applications such as nuclear energy, aeronautics, defense, space, petrochemicals and power generation. Depending on the intended application, the insulation inside MI cables is made from magnesium oxide or aluminium oxide. Clad in a metal sheath to protect them from harsh environments and heat, MI cables can contain heating elements or thermocouples. The sheath also protects the cables from external interferences, allowing them to be used for signal transmission.
These high-quality, high-tech cables are available from Thermocoax in diameters ranging from 0.25 to 10 mm and are designed for niche applications. Thermocoax's MI cables are built to last the lifespans of nuclear power plants and aircraft. To ensure the high level of quality expected by its customers, Thermocoax inspects every cable it produces. Thermocoax tests their electrical, dimensional and physical properties (including leakage) and the soundness of their materials (welded seams, sheath or cable corrosion, grain size).
Thermocoax's quality control department carries out these tests using a range of test rigs and instruments, including Keyence's VHX digital microscope. " says Patrice Guillon, quality safety and environment manager at Thermocoax. An important features of Keyence's VHX digital microscope is that users can easily choose the right type of illumination for the surface being viewed (smooth, rough, etc.).
Users also benefit from its 3D display mode. " says Mr Guillon.
Thermocoax typically uses the VHX digital microscope to analyze grain size, inspect welded seams and check for corrosion-induced defects. " explains Mr Guillon. "
Thermocoax also uses the VHX to measure weld bead thickness within 0.01 mm as well as other cable or thermocouple characteristics, such as sheath thickness. The measuring range covers 0.01 mm to 1 mm with an expected uncertainty of 3%. Surface conditions are sometimes inspected as well. Depending on the application or the requirements of Thermocoax or its customers, scratches must not be more than 0.1 mm or 1 µm.
In addition to being able to perform these measurements directly with the VHX digital microscope, Mr Guillon appreciates the high quality of its screen, its small form factor, its illumination modes and the fact that the lens unit can be moved in order to observe geometrically complex parts. Mr Guillon notes another very useful feature of the VHX: "

www.keyence.com/thermocoaxScratch analysis on a connector