www.industry-asia-pacific.com
Written on Modified on
CONTA-CLIP's HSKG line of stud terminals ensures secure connections for all energy-transmitting applications. The new HSKG 35 and HSKG 70 terminals connect cables with small rated cross sections of 35 or 70 mm².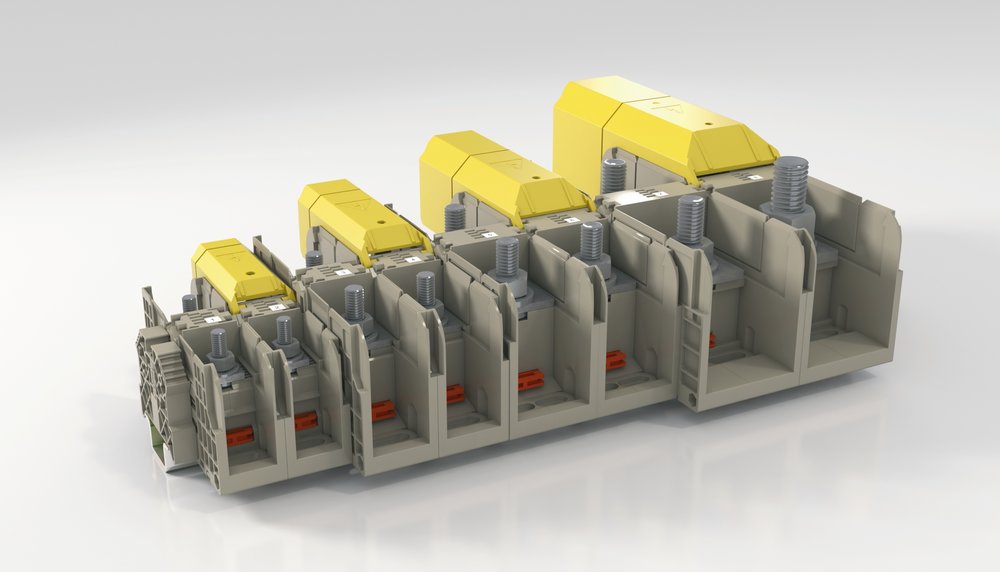 Figure: High-power stud terminals from CONTA-CLIP's HSKG series are now also suitable for connecting wires with rated cross sections of 35 or 70 mm²
HSKG terminals can be installed as required on standard TS 35 DIN rails in accordance with EN 60715. They are suited for rated currents from 125 to 520 A at rated voltages up to 1,000 V. Depending on the wire cross-section, the terminals are equipped with M6, M8, M10, M12, or M16 threaded studs. The wire connection range of the HSKG series extends up to 300 mm². Wires are applied to threaded bolts with crimped cable lugs and then connected securely to the busbar by tightening the hex nut. Two cable lugs can be connected per stud. High contact strength, vibration resistance, and freedom from maintenance are provided by the safety/spring washers and combi-nuts; subsequent tightening of the nut is not required. Optimal security is ensured by the low voltage drop and by the use of self-extinguishing material with a V0 (UL94) flammability rating. Potential distribution is possible by means of cross-connection rails available as 2- or 3-pole versions. Additionally, CONTA-CLIP provides accessories that facilitate installation and increase safety: combined with the ADH hinged covers, the HSKG stud terminals provide outstanding touch protection. The ADH cover is easy to mount; it simply snaps into the side walls of the stud terminals as it is closed. The ES 35/K/ST end stops grip both sides of the DIN rail with steel clamps, providing steady support for the terminal block construction. For optimal equipment identification, the stud terminals feature a labelling surface for the CONTA-CLIP Pocket-Maxicard PMC marking system.