www.industry-asia-pacific.com
Written on Modified on
When designing for interior access and positioning applications in aircraft, design engineers must choose mechanisms that meet styling and enhanced functionality demands, satisfy global industry standards, allow for total access flexibility, and provide a quality experience for the end user. The following focuses on key access and positioning applications in aircraft interiors and highlights examples of prime latching systems and positioning technology solutions, featuring products and systems offered by Southco as examples. Multipoint Systems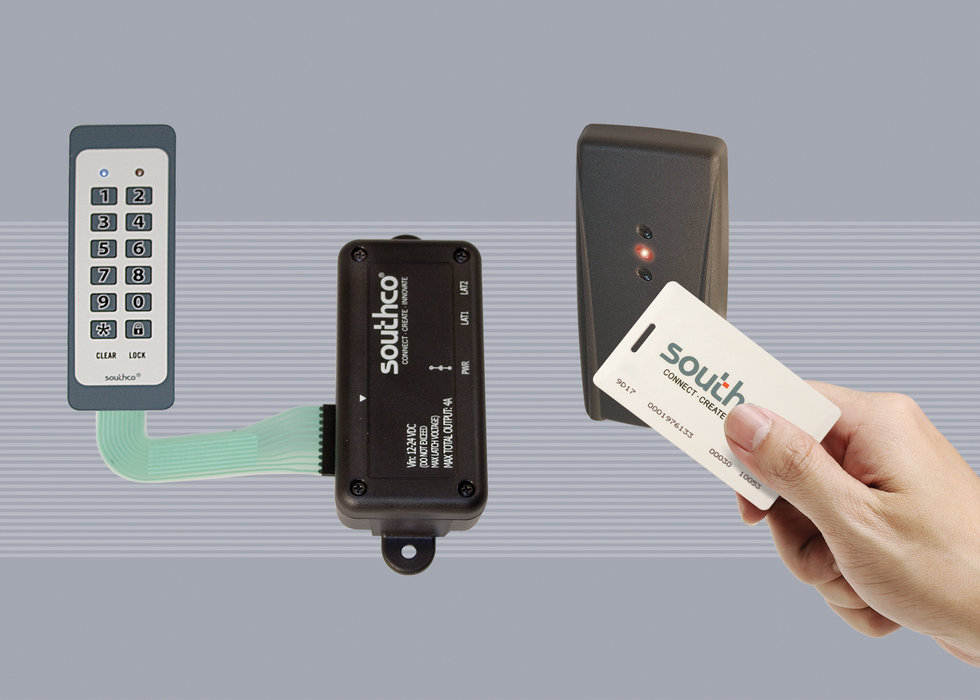 Southco's Multipoint System is a standard solution engineered to solve a wide variety of design challenges within the aircraft cabin. It features a two-point, dependent pawl latching mechanism which retracts both pawls simultaneously, preventing the risk of false latching. Constructed of robust, lightweight materials, the compact, cartridge-style Multipoint System can be actuated anywhere along the length of the assembly and is compatible with a wide variety of actuation options. It can be easily mounted between panels allowing a clean, flush exterior.
The Multipoint System provides around twice as much pawl travel when compared to standard market solutions, facilitating assistance with door assembly and gap conditions that exist between the door and surrounding instrument panel. Combined with the appropriate actuator, the system can also address aerospace industry standards for redundant latch points and redundant actuation. It accommodates both locking and non-locking actuation needs and can be integrated with an electromechanical locking system.
Electronic Access Solutions (EAS)
With aircraft OEMs continuing to upgrade interior designs, engineers are now investigating new technologies - such as electronic locks and latches - to secure various interior applications. Electronic locks provide reliable, secure latching, as well as many additional benefits over traditional mechanical systems, such as remote access and control.
An electronic access system – which offers a simple, versatile solution to achieve electronic access within cabin interiors - is composed of three primary components: an access control, or input, device; an electromechanical lock or latch; and a system for monitoring the status of the access point.
The lock is mounted inside a door or panel, requiring minimal interior space, and allows a clean exterior surface that is free of ply points. Southco combines its rotary latching solutions, such as the R4-EM Electronic Rotary latch, with an electronic access controller to provide remote actuation.
When compared to mechanical latching solutions or solenoid driven mechanisms traditionally used in these applications, Southco's EAS not only offers proven reliability, but also offers space and power reduction capabilities that can help to reduce the overall operational footprint of an aircraft. Gear motor-operated electronic locks, such as the R4-EM, require less power than a solenoid-based mechanism, allowing the system generating this power to also be lighter in weight.
From a cost standpoint, gear motors offer more efficiency than solenoids, as power draw required by solenoid systems increases the cost of operation over time. Gear-driven electronic locks provide increased force and minimal power draw, reducing overall operating expenses per flight. For instance, the R4-EM applies a significant amount of force to an object at a relatively low speed to move heavier loads, which can be useful where more force is needed, such as securing overhead storage bins during flight.
Electronic access systems can also provide an added safety to secure various applications during takeoff, taxi and landing, or when experiencing turbulence. Furthermore, remote access provided by a networked electronic locking mechanism can allow the flight crew to control when passengers may access overhead luggage bins, lavatories, food trays, or any other access point which needs to be directly overridden directly from the galley.
Positioning Technology
For aircraft seating designers, providing the ultimate passenger experience is absolutely paramount. In order to always maintain quality and end-user comfort, even when traditional materials are replaced with lightweight options, design engineers are adding torque hinges to seating applications.
Constant torque hinges use engineered friction systems to provide continuous resistance against motion through the entire range of motion, making a lightweight plastic table or tray feel heavier and more substantial, thus improving the passenger experience. Furthermore, the hinges keep it from falling down once it has been restored to its original upright position. This positioning technology can also be employed to support a wide range of in-flight entertainment systems, whether positioning a screen from the headrest or armrest. Southco's ST series hinges, for instance, provide consistent torque over high cycle life requirements and can be easily integrated into seating designs.
Another typical application for constant torque hinges is headrests. With current designs, vertical adjustment has previously been achieved with limited success, resulting in inconsistent cycle life. Southco's headrest solution features standard integrated positioning technology, which provides reliable and flexible constant torque capabilities in a small package, enabling them to be seamlessly integrated into OEM seating designs. Asymmetric torque allows the design engineer to specify various operating efforts in different directions of motion, allowing end users to easily pull wings forward for adjustment, yet still be supported when resting against it with their full weight.
This headrest solution can be integrated into reduced weight seat designs and mounts to the back of a seat body or existing structure. Rather than bolting on additional hardware, Southco can also incorporate both vertical slide and wing tilt elements directly into the headrest solution.

Complying with Industry Regulations
When designing for interior aircraft applications, engineers must balance the need for functionality with aerospace industry compliance requirements. Because material removed during maintenance and retrofits is often recycled into new aircraft components, it is essential for aircraft OEMs to select materials that meet global design standards.
Southco offers standardised access hardware solutions that meet global legislative requirements and are ready to drop into cabin interior applications. This enables engineers to devote more of their time to the overall design of the aircraft. Through a 'design for assembly' approach, Southco uses the least amount of materials and components necessary for optimal design. This ultimately reduces the total weight and total cost of the hardware selected and allows the design engineer to increase feature density across applications, whether incorporating a multipoint system, electronic access or headrest positioning solution.