www.industry-asia-pacific.com
Written on Modified on
Key findings and learnings from the manufacturing simulation survey conducted by Visual Components.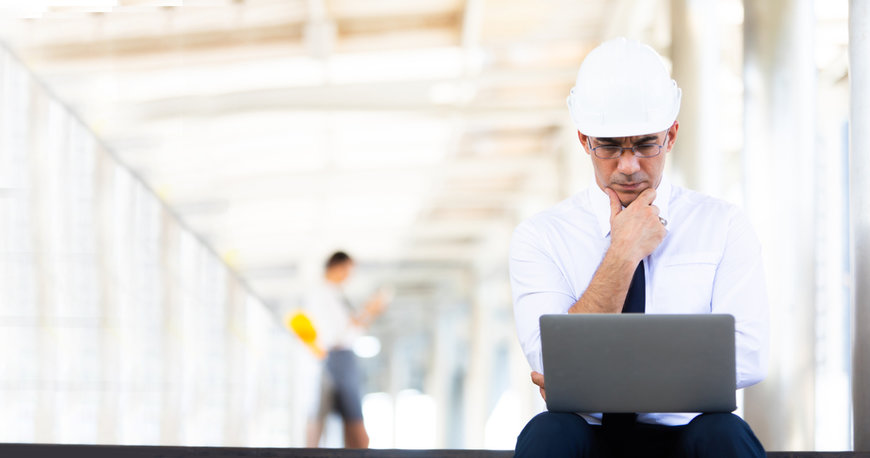 Today, companies in the manufacturing industry face tons of challenges, such as the Covid pandemic, sustainability, just to name a few. A lot of events have reshaped the way manufacturers approach their projects in today's world. We at Visual Components have teamed up with OnePoll to conduct a study on the state of manufacturing businesses in the UK in 2021. 100 manufacturing decision-makers were asked 20 questions on topics such as cost, sustainability, and supporting technologies in the industry.

Below you can find some of the key findings from the study.

Costs on fixing avoidable manufacturing mistakes
Almost all of the companies taking part in the survey (97%) claimed to have made at least one mistake in their manufacturing projects. What is more, the average cost associated with a mistake or downtime in the manufacturing process totaled almost £98,000, with 2% even citing a spend of over £1 million.

When asked about the typical spend on correcting manufacturing mistakes, the majority of the respondents (35%) mentioned the range from £25,001 to £50,000.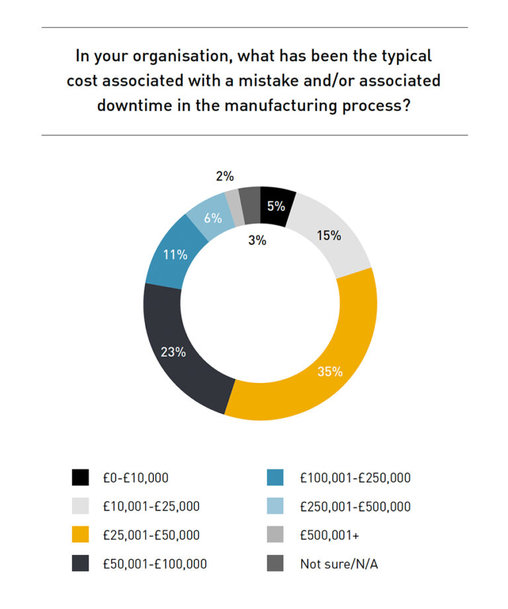 Sustainability
Despite the fact that sustainability has been on the agenda of the majority of production environments, the reality for manufacturers in 2021 is that they're currently falling short. On average, only 31% of materials used by manufacturers are sustainable, and only 32% of manufacturing processes are powered by renewable energy. This shows that there's still room for improvement when it comes to sustainable practices.

Reusable materials (51%) and waste reduction (42%) were chosen as the key sustainability focus areas.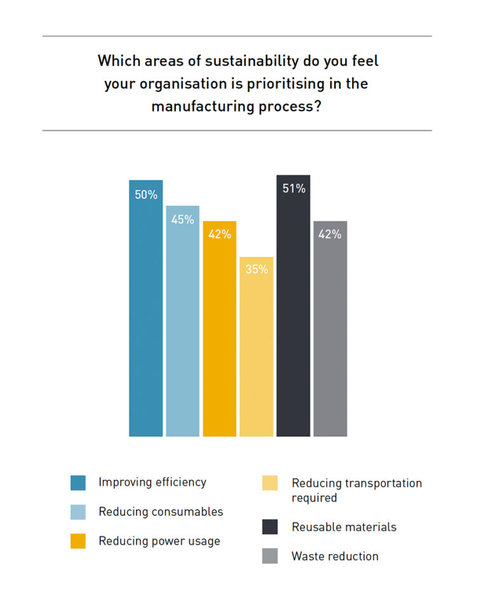 The role of simulation software in the manufacturing process
The top listed reasons to use manufacturing simulation software were the following:

The validation of 2D/3D CAD designs (34%)
Process modeling (34%)
Automation projects (33%)
An interesting discovery was that among manufacturers that currently use simulation software, more than half (57%) feel that the solution is not easy to use. This proves that choosing the right type of simulation software is just as important as benefiting from its features.

Curious to see more results?
Access the full report here.

www.visualcomponents.com