www.industry-asia-pacific.com
Written on Modified on
Today, Karteks is one of the leading manufacturers of corrugated boxes in Serbia – the third largest in the country, only behind two major international companies, Smurfit Kappa and DS Smith.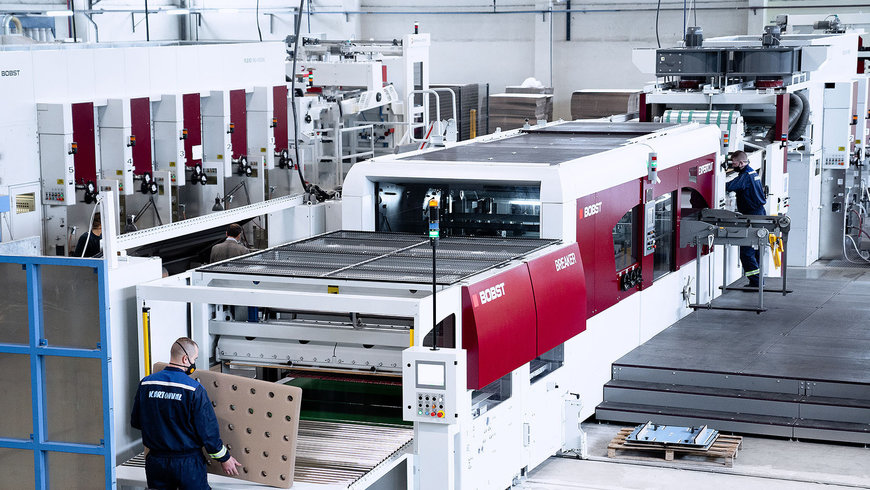 But like a lot of success stories, it has humble beginnings. The company was founded in 1991 by the brothers Vojin and Zoran Petković in a small premises just outside Belgrade. In its early years, it developed made-to-measure corrugated boxes for a handful of local companies. With a consistent focus on quality and customer service, the company rapidly grew, establishing itself as a highly reliable manufacturer of corrugated packaging, with a particular focus on the food industry. The company also started specializing in large, complex boxes for, notably for the automotive, furniture and civil engineering industries.
In 2010, they decided to meet some of their clients' request to deliver finished blanks and invested in a second-hand die-cutter from BOBST, a SPO 1575. Demand and business opportunities increased and in 2016, they decided to go a step further. Having been convinced by the performance of the SPO 1575 – which still works efficiently to this day - the company turned to BOBST. They invested in a BOBST EXPERTCUT 1.6, which offers flat-bed die-cutting precision, along with great versatility, excellent reliability and superb productivity.
An instant impact


"Our production quality and production capacity increased drastically almost overnight,
" says Dimitrije Petković, who has joined the family business and manages it with his father, Vojin.
"It gave us the optimal accuracy, consistency and productivity that we needed to ensure we could meet the demand for die-cut boxes. Changeovers are also very quick on this machine, which has been very helpful for fulfilling multiple short runs."
The resulting growth for Karteks has been extraordinary. The company has grown from manufacturing 6,500 tons in 2015 to 15,000 tons in 2020, an incredible 230% increase in productivity in five years. This has catapulted the company into the very top league of corrugated packaging converters in Serbia.
But around five years ago, the company noticed a significant shift among the needs of their customers.
"The market was moving away from Regular Slotted Containers (RSC) and towards more customizable, high-quality die-cut boxes,"
explains Mr. Petković. This development also explained the request for printed boxes.
"While we had always been able to manufacture boxes to tailored requirements, the sudden increase in demand made it very challenging to produce such boxes at scale to the same high standards we pride ourselves on. Also, we wanted to meet our clients' needs for shelf-ready printed boxes. So we knew we had to invest in the latest state-of-the-art technology."
In 2018, the company therefore invested in a BOBST FLEXO 160-VISION printing press with 4 colors for high quality printing on corrugated board. They bought it together with a BREAKER separator and an BOBST EXPERFOLD 165 folder-gluer, offering exceptionally smooth and precise folding capabilities. The FLEXO printing line was further upgraded in 2019 with an additional color, sheet cleaner and air dryers to ensure spotless printing with lac finish. With these innovations working seamlessly together, the company closed the loop of their production process, able to produce die-cut, shelf-ready boxes in CMYK.
"There are many advantages of having a complete BOBST production line,"
says Mr. Petković.
"Having a complete inline machine means that the time spent for production of orders is reduced to minimum. In addition, the operators are familiar with the interface throughout the whole line."

Sustainability and automation for a long-term vision


"Sustainability and automation are the main driving principles for our generation. The production process is not excluded from this trend. With a higher percentage of automation in production process, one can produce more for less time, effort and costs, thus being more sustainable altogether,
" said Dimitrije Petković.
Combining the BOBST EXPERTCUT 1.6 with a BOBST FLEXO 160-VISION and a BREAKER allowed Karteks to create an almost fully automated converting line, reducing several production steps to one. User-friendliness also is a key feature of all BOBST products and has contributed to make work conditions at the Karteks plant more secure, reduce the workload and speed up make-readies. Indeed, specific equipment ergonomics – open print units and large windows - allow easy access to different machine areas, facilitating operator intervention where needed. Moreover, the CUBE interface controls all functions of the machines, allowing the quick and easy setting of printing parameters. These features translate into short setup and changeover times, giving more production flexibility for short runs and increasing productivity. At the same time, the resulting reduced lead times make sure clients can rely on tight delivery deadlines.
BOBST high-tech solutions, such as the unique Autoplaten
®
concept with the double cam gripper bar advance on the die-cutter, tool centering systems and the vacuum air sheet transport on the flexo printer ensure high precision and a smooth production flow for a high-quality finished product. According to Mr. Petković,
"guaranteeing amazing precision and delivering best quality instead of waste, combined with unique inking technology limiting ink consumption, has allowed us to save cost and contributed in making the production line more sustainable."
Karteks also appreciate the after-sales support they can count on. BOBST Service Helpline is always available for advice and problem solving. With Helpline Plus, most issues can be resolved remotely and quickly. Having opted for the Connected Services option, the Remote Monitoring and Downtime Tracking also allow the company to survey and analyze their production data to optimize their production.
Knowing each single part contributes to ensure the best product quality and the optimum productivity of their production line, the availability of high-quality spare parts for all their equipment is also highly valued.
"The BOBST technicians are familiar with both our lines and are therefore able to identify any issues quicker. This closeness and knowledge of our equipment, as well as the availability of support and spare parts is very precious and reassuring for us,
" said Mr. Petković.
Further investment prompts incredible growth

In 2020, Karteks invested in an additional complete EXPERTLINE, consisting of a BOBST FLEXO 160-VISION with 2 colors, BOBST EXPERTCUT 1.6 and BREAKER. This line has freed capacity on the 5 color line, which is utilized for the jobs requiring the highest quality.

"With every new piece of equipment, we have increased both our production quality and capacity even further, which in turn opens new doors in terms of our customers,"
says Mr. Petković.
"Now with two BOBST EXPERTLINES in place, we can deliver on all types of jobs, regardless of the quality or quantity required. We can also easily interchange printing plates and die-cutting tools between the two lines, thus reducing the costs and increasing the overall productivity of our converting facility."

"The last few years show that you cannot sit still in our industry – you must always keep moving to stay ahead of the latest trends for your customers,"
says Mr. Petković.
"It also shows the importance of choosing the best partners. BOBST is the world leader in production of die-cut converting lines, with a long heritage in this field. Ever since our first interaction with BOBST, we have enjoyed a good relationship with the company and appreciate their technical and process support. Their machines give us a real competitive advantage. This has enabled us to grow to new heights, while maintaining the same philosophies of a family-run business that we have had since the beginning."
www.bobst.com