www.industry-asia-pacific.com
Written on Modified on
Automation specialist helps companies prepare their production for time after pandemic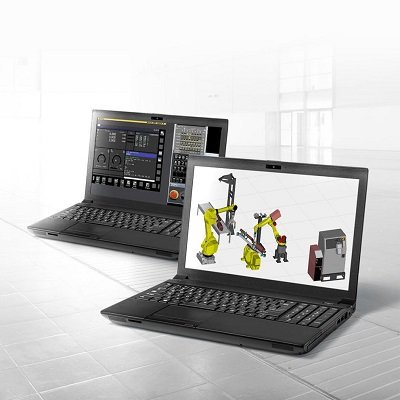 COVID-19 poses challenges to industrial companies worldwide. Many factories stand still or produce with limited capacities, employees work in shifts or from their home office, only gradually returning to their workplaces. Notwithstanding the severe situation, now is the time to prepare production and employees for the time after the pandemic as one thing seems certain: the efficiency and flexibility of production as well as the know-how of employees will determine the survival of companies.
To support them in solving this task, automation specialist FANUC is offering all interested parties in Europe its efficiency-boosting software programs ROBOGUIDE and CNC GUIDE as free trial versions until the end of September 2020. The registration can be easily done on FANUC Europe's website:
https://special-offer.fanuc.eu/en/
"The current situation is very difficult for most industries, but those who start preparing for the next phase now will clearly have an advantage and FANUC will strongly support those customers,"
says Mr. Shinichi Tanzawa, President & CEO of FANUC Europe Corporation. FANUC itself has increased the number of e-learnings and webinars for its more than 1600 employees in Europe since the outbreak of the pandemic. Numerous learning opportunities have also been and are being created for customers. FANUC is now stepping up its actions in offering a free trial version for their coveted ROBOGUIDE and CNC GUIDE software programs.
ROBOGUIDE is a program with which both the motion of FANUC robots and the overall production process can be simulated. It is not only used for offline programming, but also creating a 3D simulation environment assisting users to design and optimise their applications efficiently.
Application modifications and updates can be designed and evaluated without stopping production. Afterwards the simulation can be transferred to robot controllers in the production via Ethernet connection. Machine downtimes are thus reduced to a minimum and malfunctions are avoided. An integrated CAD database gives users access to all FANUC robots as well as machines and simple tools. Thus, even complex applications with multiple robots can be simulated and tested. An enormous efficiency advantage for both system integrators and end users, e.g. manufacturing companies.
CNC GUIDE allows users to write, simulate and test part programs on their computer. This makes it suitable for machine tool users, but also for machine tool builders who, thanks to CNC GUIDE, can easily develop and test software for the machine programs on the PC. In addition, machine tool builders can also support their customers remotely using CNC Guide: This enables them to simulate machine programs and provide advice in case of programming errors. Additional functions of the CNC Guide include the "Cycle Time Estimation Function", which calculates the respective cycle time of a part program with high accuracy.
CNC GUIDE is also of interest to educational institutions that offer training for CNC programming and can now use the software free of charge until the end of September 2020. Since the CNC GUIDE shows the keyboard of a real FANUC CNC, the operation of FANUC controllers can also be trained in the form of distance learning on a PC or laptop without the need for a real machine tool. The new, high-quality graphical user interface iHMI for FANUC CNC can also be tested. Part programs comprise standard ISO code and machining cycle and can be simulated in 3D graphic.
"After the outbreak of the pandemic even more companies will recognize the need for automation,"
explains Mr. Tanzawa.
"FANUC wants to support all those customers, but is also committed to help with the education of the next generation of programmers for automation."
One such initiative is continuing to support a Global Partnership with the vocational education organisation, WorldSkills, since entering in 2018.
FANUC Europe Corporation with 23 entities all over the continent is part of the FANUC Corporation, market leader in the fields of CNC controls, industrial robots and specialized machine tools. Globally FANUC Corporation operates 264 locations serving 108 countries. More than 4.2 million FANUC CNCs and over 600,000 FANUC robots have been installed in factories worldwide.
www.fanuc.eu