www.industry-asia-pacific.com
Written on Modified on
The compact, spring-actuated TANDEM KSF plus clamping force blocks require no media supply, and are therefore ideal for storage solutions.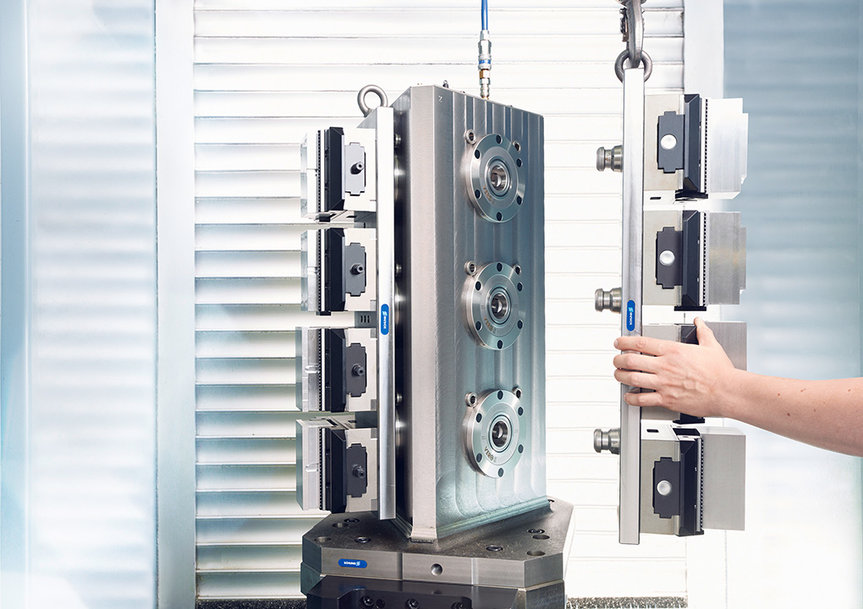 At first glance unspectacular - but on a closer look more versatile than virtually any other clamping device: Tombstones and clamping pyramids are regarded as somewhat mystical, probably because they also change their appearance from machine to machine. When used carefully, they can multiply the number of workpieces in the machine room, thus offering the ideal preconditions for reducing idle times and for catapulting running times for unmanned machine upwards with a high degree of flexibility - provided the clamping devices are carefully coordinated for this purpose.
4-axis horizontal machining centers with integrated pallet change have always been the domain of tombstones. The basic idea is always the same: The tombstone multiplies the machine's own clamping face so that a high machine capacity is achieved and idle times are minimized. Skillfully planned, a workpiece storage system with a tombstone can be used to produce fully automated parts over several days, for example in ghost shifts on weekends. Clamping pyramids, which in recent times have enjoyed success on 5-axis machines in particular, follows the same basic idea.
Without any concessions when it comes to accessibility, the unmanned machine running time can be increased using these - especially when loading is carried out from the machine's own or external pallet stores. For good reason, SCHUNK, the competence leader for gripping systems and clamping technology, has been consistently expanding its portfolio of tombstones and clamping pyramids for years now. The starting point is a comprehensive modular system consisting of basic pallets, basic profiles and clamping surfaces, which are combined with an impressive variety of clamping devices and made efficiently usable via a wide selection of standard clamping jaws.

Eliminating idle times
The basic principle is simple: One or ideally even several workpieces can be set up on each side of the tombstone, which are then machined one after the other. With the aid of modern CAD / CAM systems, it is thus possible to machine even the smallest batch sizes up to individual parts highly efficiently and automatically. Setup is carried out on the basis of workpiece-specific tooling plans, ideally outside the machine room at the machine's own or external setup stations. Loading of the machine with the tombstone or the clamping pyramid is then carried out via the machine's own transfer systems, alternatively by crane or robot. In addition, unproductive idle times, such as converting, alignment, or determining the zero point can thus be eliminated with tombstone and pyramids, ie consistently excluded from the machine.

Vibration-damping hollow body design
As a rule, SCHUNK KONTEC tombstones are made of one piece. The base plate and clamping pillar are made of cast iron EN-GJL-250 as a monoblock and, due to their stable hollow body design, ensure high rigidity, good vibration damping, and high basic accuracy so that they no longer have to be milled over before use.
The standard versions are available with two base plate sizes (400 x 400 mm, 500 x 500 mm) for all common standard machine pallets type DIN 55 201 and JIS 6337-1980. Individual interfaces are also possible. The perpendicularity to the base plate is 0.01 mm to 200 mm, the surfaces are finely milled and have a roughness of Ra 1.6. This ensures exact positioning of the clamping devices and workpieces. The tombstones can be mounted quickly and precisely on existing machine tables using a Ø 50 H6 centering device.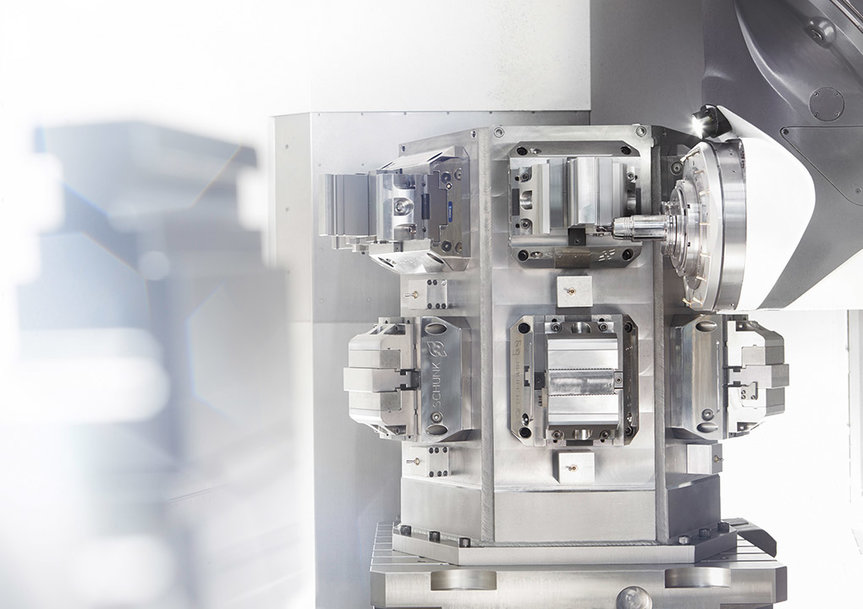 Numerous variants
Tombstone and pyramids are available in a large number of variants and designs. The SCHUNK tombstone program itself comprises five basic profiles: double brackets with two clamping surfaces, triangles with three clamping surfaces, cubes or crosses with four clamping surfaces and octagons with eight clamping surfaces. Another special form is the clamping pyramid, which enables multiple clamping with excellent accessibility on 5-axis machines, and is gaining in importance not least due to the increasing number of machines with workpiece storage.
By selecting the right shape for the workpiece and the machining process, the interfering contours and thus the accessibility of the spindle and tools can be optimized. Depending on the variant, the height of the standard tombstones is 710 mm or 1,000 mm.
Flexibility in clamping surface and clamping devices
There are four different clamping surfaces to choose from: The 50 mm bore grid offers a high degree of flexibility. It is suitable for mounting various clamping devices, but also for conventional set-up by using clamping claws. The reduced grid in turn is specially designed for SCHUNK KONTEC clamping devices. In both cases, the grid holes are equipped with hardened fitting bushes and galvanized threaded bushes. The clamping devices can be positioned and fastened directly to the tombstone using Ø12 / M12 fitting screws.
The third variant, a raw clamping surface, can be individually adapted by the user to the respective requirements. The fourth variant offers the greatest flexibility, as it can be equipped with SCHUNK VERO-S NSE-T 138 quick-change pallet modules.
www.schunk.com